North-lands spellcasters who reach too boldly for power transform into trolls – grotesque villains wielding a potent magic and destined for madness. A Knot of Trolls features seven of these evildoers, each pursuing a unique design for troubling their neighbors. Across the ages of the world, ordinary youths must rise to the challenges laid down by trolls. Destiny and hope lie in the balance.
Seven tales of magic and troll-mages – ancient error echoes down through the ages.
Ebook
A Knot of Trolls is a collection of short stories available as an ebook for $6.99
Amazon I B&N I iTunes I Kobo I Smashwords
Trade Paperback
A Knot of Trolls is available as a trade paperback for $16.99
6″x 9″ trim size • 298 pages
ISBN-10: 0615977286
ISBN-13: 978-0615977287
Amazon I B&N I Book Depository I CreateSpace
Fishpond I Mysterious Galaxy Books I Powell's Books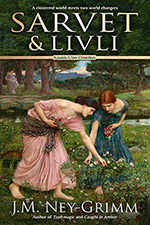 Sarvet & Livli
KAUNIS CLAN OMNIBUS
A cloistered world meets two world changers. When Sarvet's culture hems her in, she pushes back. Her daughter, Livli, does likewise. The Kaunis Clan Omnibus contains both Sarvet's Wanderyar and Livli's Gift in their entirety.
Ebook
Sarvet & Livli is an omnibus available as an ebook for $6.99
Amazon I B&N I iTunes I Kobo I Smashwords
Trade Paperback
Sarvet & Livli is available as a trade paperback for $16.99
6″x 9″ trim size • 282 pages
ISBN-10: 061588590X
ISBN-13: 978-0615885902
Amazon I B&N I Book Depository I CreateSpace
Fishpond I Mysterious Galaxy Books I Powell's Books