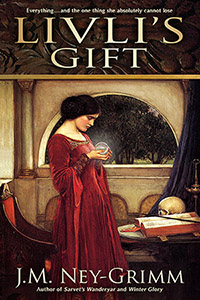 Livli struggles with a secret she keeps from everyone, even her closest friends, and she must solve the problem at its heart before she's discovered.
She's certain the answer lies in a fragment of folklore and magic half-remembered from her childhood. Almost certain.
She wouldn't need forgotten magic if only the men and women of her secluded mountain culture dwelt together. But the women—and Livli—inhabit their sister-lodge atop its lofty bluff, while the men live apart in their brother-lodge several valleys away.
Unless she can force a change, Livli stands to lose everything . . . including the most precious thing in her life: her son.
A story of secrets, shibboleths, and deep-forged strength told with all the insight and engaging intimacy that J.M. Ney-Grimm brings to epic fantasy.
Ebook
Livli's Gift is a novel available as an ebook for $3.99
Amazon I B&N I iTunes I Kobo I Smashwords
Trade Paperback
Livli's Gift is available as a trade paperback for $14.99
6″x 9″ trim size • 212 pages
ISBN-10: 1977677193
ISBN-13: 978-1977677198
Amazon I B&N I Book Depository I CreateSpace
Fishpond I Mysterious Galaxy Books I Powell's Books