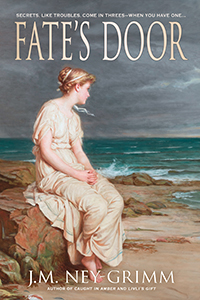 Secrets, like troubles, come in threes. When you possess one of either, two more arrive to keep it company.
Nerine, a sea nymph of the ancient world, knows too much about both.
Each morning, in the chill before the sun's rising, Nerine and the three Fates stand under the mighty branches of the World Tree, gazing into the depths of the root-girdled Well of Destiny to master the dooms they must bring to life that day.
When the dawn's visions show Nerine's lover—shipwrecked and drowning—all her renounced yearning for him rises anew.
Surely, as handmaiden to the Fates themselves, she might tilt the odds to give her beloved a chance.
Somehow—this day, this morning, this time—Nerine must subvert destiny or lose the companion of her heart forever.
Love and coming of age in a mythic Mediterranean where the gods and goddesses of old shape history.
Ebook
Fate's Door is a novel available as an ebook for $5.99
Amazon I B&N I iTunes I Kobo I Smashwords
Trade Paperback
Fate's Door is available as a trade paperback for $19.99
6″x 9″ trim size • 490 pages
ISBN-10: 0692583653
ISBN-13: 978-0692583654
Amazon I B&N I Book Depository I CreateSpace
Fishpond I Mysterious Galaxy Books I Powell's Books