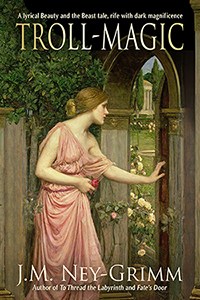 Prince Kellor, cursed by the troll-witch Mandine to live as a north-bear, wrestles with the challenges of his beast form. Pain wracks his body. Unpredictable rages blur his mind. And straight thinking proves elusive, confusing his search for the loopholes that every curse possesses.
His curse turns on the choices of his childhood friend Elle. She once shared Kellor's idyllic rambles through the wilderlands. She now loves all things musical. Might Kellor persuade her to neglect her own dreams to confront his lethal nightmare? Should he?
But no troll-witch permits her prey to escape with ease. The illusory loopholes in Mandine's curse all twist back to its entombing heart.
J.M. Ney Grimm tells a lyrical Beauty and the Beast tale, rife with moments of shining glory, dark magnificence, and unexpected significance. The fate of an empire, a people, and a world unfurls from Kellor's deeds and Elle's choices.
Ebook
Troll-magic is a novel available as an ebook for $5.99
Amazon I B&N I Inktera I iTunes I Kobo I OverDrive I Scribd I Smashwords I 24Symbols
Trade Paperback
Troll-magic is available as a trade paperback for $19.99
6″x 9″ trim size • 438 pages
ISBN-10: 0615702546
ISBN-13: 978-0615702544
Amazon I B&N I Book Depository I CreateSpace
Fishpond I Mysterious Galaxy Books I Powell's Books