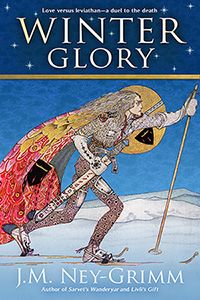 In the cold, forested North-lands – redolent with the aroma of pine, shrouded in snow, and prowled by ice tigers and trolls – Ivvar seeks only to meet his newborn great granddaughter.
Someone else has the same plan.
Traversing the wilderness toward the infant's home camp, Ivvar must face the woman he once cherished and an ancient scourge of the chilly woodlands in a complicated dance of love and death.
Ivvar's second chance at happiness – and his life – hang in the balance.
Ebook
Winter Glory is a novella available as an ebook for $3.99
Amazon I B&N I Inktera I iTunes I Kobo
OverDrive I Scribd I Smashwords I 24Symbols
Trade Paperback
Winter Glory is available as a trade paperback for $9.99
5″x 8″ trim size • 160 pages
ISBN-10: 0692438254
ISBN-13: 978-0692438251
Amazon I B&N I Book Depository I CreateSpace
Fishpond I Mysterious Galaxy Books I Powell's Books