The trade paperback edition of The Tally Master is now out and making its way through the distribution chain. It's currently available at Amazon and Barnes & Noble. Soon you'll be able to find it at the Book Depository, Powell's, and many other bookstores as well.
The book is really lovely, if we do say so ourselves. 😉
An illustration of the tower of Belzetarn graces the front matter, while the appendices include maps, floor plans, and sketches of just what those ingots counted by Gael look like.
* * *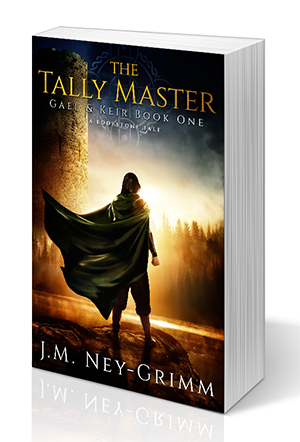 Seven years ago, reeling from a curse in the wake of battle, Gael sought sanctuary and found it in a most perilous place.
The citadel of a troll warlord—haunt of the desperate and violent—proves a harsh refuge for a civilized mage. But Gael wields power enough to create an oasis of order amidst the chaos.
Now master of the metals that flow to the citadel's weapon forges, Gael rules his tally room unchallenged, until he discovers a theft within its vaults.
Gael loves the quiet certainty of black ink tally marks on smooth parchment, but his search for the thief leads to a maze of unexpected answers, putting his hard-won sanctuary—and his life—at risk.
Set in the Bronze Age of J.M. Ney-Grimm's North-lands, The Tally Master brings mystery and secrets to epic fantasy in a suspenseful tale of betrayal and redemption.
Trade Paperback
The Tally Master is available as a trade paperback for $19.99
6″x 9″ trim size • 466 pages
ISBN-10: 1546516530
ISBN-13: 978-1546516538
Amazon I B&N I Book Depository I CreateSpace I Fishpond I Mysterious Galaxy Books
The Tally Master continues to be available as an ebook.
Amazon I B&N I iTunes I Kobo I OverDrive I Smashwords