Devouring Light released first as an ebook and garnered some praise from readers.
"…a celestial world of clockwork and the spheres in gorgeously embroidered language. We are introduced to Mercurio, the god of the first planet, and his mysterious visitor, a beautiful young woman with memory gaps who literally falls from the sky. The story draws clear parallels between the characters and their celestial counterparts, the gods and their planets or constellations, in a way that keeps you guessing as to the identity of the visitor. Just like Mercurio's own efforts to stage a grand spectacle for Sol, the author sets the stage for a spectacular finale. Her mastery of style really makes that finale sing.
"I recommend this for people who like Tanith Lee, epic style, and a writer who plays mischievously with both language and the reader."
– Amazon review
Now Devouring Light is available as a paperback!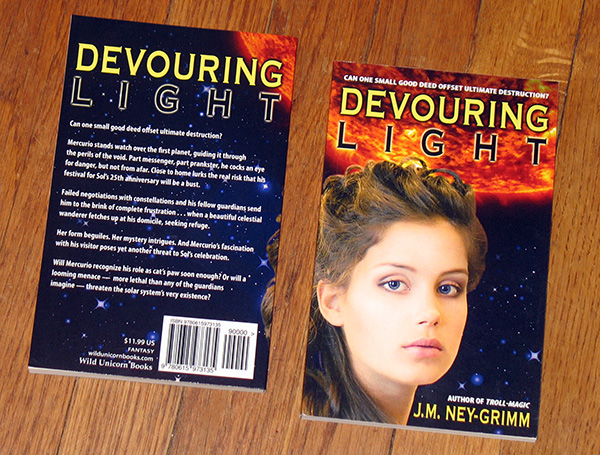 Can one small good deed offset ultimate destruction?
Mercurio stands watch over the first planet, guiding it through the perils of the void. Part messenger, part prankster, he cocks an eye for danger, but not from afar. Close to home lurks the real risk that his festival for Sol's 25th anniversary will be a bust.
Failed negotiations with constellations and his fellow guardians send him to the brink of complete frustration…when a beautiful celestial wanderer fetches up at his domicile, seeking refuge.
Her form beguiles. Her mystery intrigues. And Mercurio's fascination with his visitor poses yet another threat to Sol's celebration.
Will Mercurio recognize his role as cat's paw soon enough? Or will a looming menace – more lethal than any of the guardians imagine – threaten the solar system's very existence?
Devouring Light is available as a trade paperback for $11.99.
5″x 8″ trim size • 142 pages
ISBN-10: 0615973132
ISBN-13: 978-0615973135
Amazon.com I Amazon UK I B&N I CreateSpace I or order it from your local bookstore
Devouring Light continues to be available as an ebook.
Amazon I B&N I iTunes I Kobo I Smashwords