It's always exciting to announce the release of a new book. This one is particularly thrilling for us. A Knot of Trolls collects seven shorter works by J.M. Ney-Grimm within one binding. Some readers prefer to choose their short stories one by one. Others like to pick up collections and anthologies. A Knot of Trolls is for the collection lovers among us!
A Knot of Trolls is available in both an ebook edition and a paperback edition. No waiting for the format you like most. Both are ready for your reading pleasure!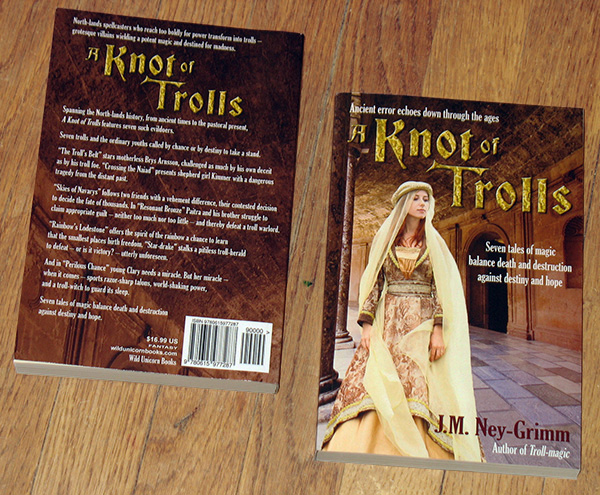 North-lands spellcasters who reach too boldly for power transform into trolls – grotesque villains wielding a potent magic and destined for madness.
Spanning the North-lands history, from ancient times to the pastoral present, A Knot of Trolls features seven such evildoers. Seven trolls and the ordinary youths called by chance or by destiny to take a stand.
"The Troll's Belt" stars motherless Brys Arnsson, challenged as much by his own deceit as by his troll foe. "Crossing the Naiad" presents shepherd girl Kimmer with a dangerous tragedy from the distant past.
"Skies of Navarys" follows two friends with a vehement difference, their contested decision to decide the fate of thousands. In "Resonant Bronze" Paitra and his brother struggle to claim appropriate guilt – neither too much nor too little – and thereby defeat a troll warlord.
"Rainbow's Lodestone" offers the spirit of the rainbow a chance to learn that the smallest places birth freedom. "Star-drake" stalks a pitiless troll-herald to defeat – or is it victory? – utterly unforeseen.
And in "Perilous Chance" young Clary needs a miracle. But her miracle – when it comes – sports razor-sharp talons, world-shaking power, and a troll-witch to guard its sleep.
Seven tales of magic balance death and destruction against destiny and hope.
A Knot of Trolls is available as an ebook for $7.99.
Amazon.com I Amazon AU I Amazon CA I Amazon DE I Amazon ES I Amazon UK
B&N I iTunes I Kobo I Smashwords
A Knot of Trolls is available as a trade paperback for $16.99.
6″x 9″ trim size • 298 pages
ISBN-10: 0615977286
ISBN-13: 978-0615977287
Amazon.com I Amazon UK I B&N I CreateSpace

PRAISE FOR THE STORIES IN A KNOT OF TROLLS
"I loved this story! It is lively, perky and interesting. While the author notes it is "a re-casting of Hansel & Gretel with a Norse twist," I found the storyline to be much more creative and original. I am looking forward to reading more from J.M. Ney-Grimm!" – Amazon review of The Troll's Belt
"A quick, refreshing piece of literature. Like a cool sip of water after a grueling endurance marathon . . . It's swift and concise, but the prose is eloquent and deft, to the point, yet gracefully articulate . . . again I am enthralled with the completeness of the picture the author is painting. The world comes to life . . ." – Goodreads review of Crossing the Naiad
". . . an imaginative science-fiction fantasy . . . well-written and interesting . . . The characters are realistic thirteen years old with all their curiosity, doubts, amiability and daring in the face of adversity." – Goodreads review of Skies of Navarys
". . . a wonderful (longer) short story with Ney-Grimm's characteristic voice. It flows like a fairy tale and has an airy, almost fanciful feel to it . . .This ephemeral tone is what sets her work apart from anything else I've read – it's absolutely unique, and absolutely engaging. Perilous Chance is no exception, and it's my favourite story of Ney-Grimm's so far." – Speaking to the Eyes review of Perilous Chance