Exciting news. The sequel to The Tally Master is out at last!
* * *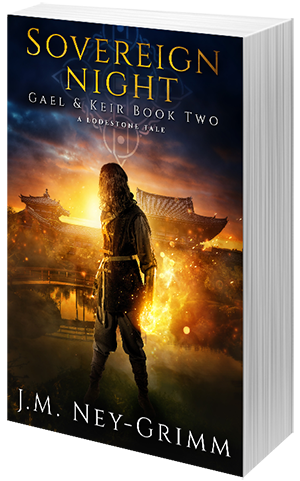 Something is wrong in the city—a vile knot of villainy that beckons Gael and Keir with the magical lodestone they seek while threatening their lives and their secret.
Gael, an illicit mage, hunts redemption with Keir, a gifted healer who helps all who cross her path. Gael loves her loyalty to her calling—and to him—but has grown inured to the fact that they will never hold each other in more than high regard.
Together they seek a cure for the accursed affliction that not only erodes their bodies and minds, but keeps them apart. The lodestone that harbors their salvation lies hidden in riverine Hantida.
But when they enter the city's gates, the dark mystery lairing there catches them in its claws.
Reavers comb Hantida's streets and squares by night, crashing their gauntleted fists on a residence gate or a workshop door, and taking a child, a grandmother, or some sleeping fool who thought himself safe.
Always the reavers emerge from the imperial palace at the city's heart and return to it before daybreak with their captive—just one—who is never seen again.
When the bronze-mailed warriors set their sights on a little girl with horrific burns, the travelers come face to face with the threat.
But more than mere violence lurks behind the abductions. They conceal a rotten core of secrets, intrigue, and conspiracy that Gael and Keir must penetrate while hanging on to their lives and holding true to their quest.
A tale of adventure in a vivid world of magic, shadows, and exotic peril.
Ebook
Sovereign Night is a novel available as an ebook for $4.99
Amazon I B&N I iTunes I Kobo I OverDrive I Smashwords
Trade Paperback
Sovereign Night is available as a trade paperback for $16.99
6″x 9″ trim size • 320 pages
ISBN-10: 1655772201
ISBN-13: 978-1655772207
Amazon