A Talisman Arcane starts off a new series that follows teenage Lealle as she inspires the reincarnation of the Prince's Djinn—an archaic group of troubleshooters who find and fix dangerous problems that no one else can solve.
This first book involves a lodestone, so it could be considered the latest installment of the Lodestone Tales. But the sequels to A Talisman Arcane will dive into perils created by adversaries of more deliberate malevolence.
A Talisman Arcane is available as both an ebook and a trade paperback.
* * *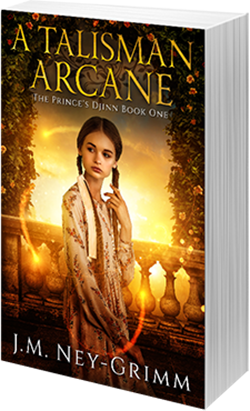 The mansion on Balard Square stands empty. Dirt grimes its marble columns. Cracks mar its once pristine walls. No one enters or exits.
Rumor says no one lives there. Neighbors ignore the property, glad it's merely shabby, not derelict. Brash youths pretend a witch makes it her home, a wicked witch who hates children.
All of them—rumor, neighbors, and youths—are wrong.
Fleeing a ragged horde of boys, young Lealle discovers the truth of the history-haunted house.
She hopes to keep that truth secret.
But her silence threatens disapproving neighbors, trespassing bullies, and one gentle soul in desperate need of a lifeline.
Magic and coming of age in the tradition of Patricia C. Wrede's Mairelon the Magician.
Ebook
A Talisman Arcane is a novel available as an ebook for $4.99
Amazon
Trade Paperback
A Talisman Arcane is available as a trade paperback for $16.99
6″x 9″ trim size • 282 pages
ISBN-10: 179692816X
ISBN-13: 978-1796928167
Amazon